Floor cleaning and maintenance
The cleaning and maintenance are crucial for the life time and condition of our wooden and vinyl floors. With the right cleaning products, the floor will stay shiny and will continue to benefit the health of the people who use it.
Our showroom offers top-quality ENJO cleaning products and supplies that comply with the highest environmental standards. With ENJO fibres and tools, floor cleaning will be simple, quick and easy.
Floor care and maintenance services:
We sell ENJO cleaning products and supplies
We sell Artelit cleaning products
We provide machine cleaning of parquet floors, terraces and staircases
We consult on floor maintenance.
ENJO floor cleaning products and supplies
Orange ENJO Floor Fibre Dust
The orange fibre cloth is designed to collect and trap even the finest dust particles, pet hair and other surface dirt. Perfect for dry cleaning of parquet and other types of flooring.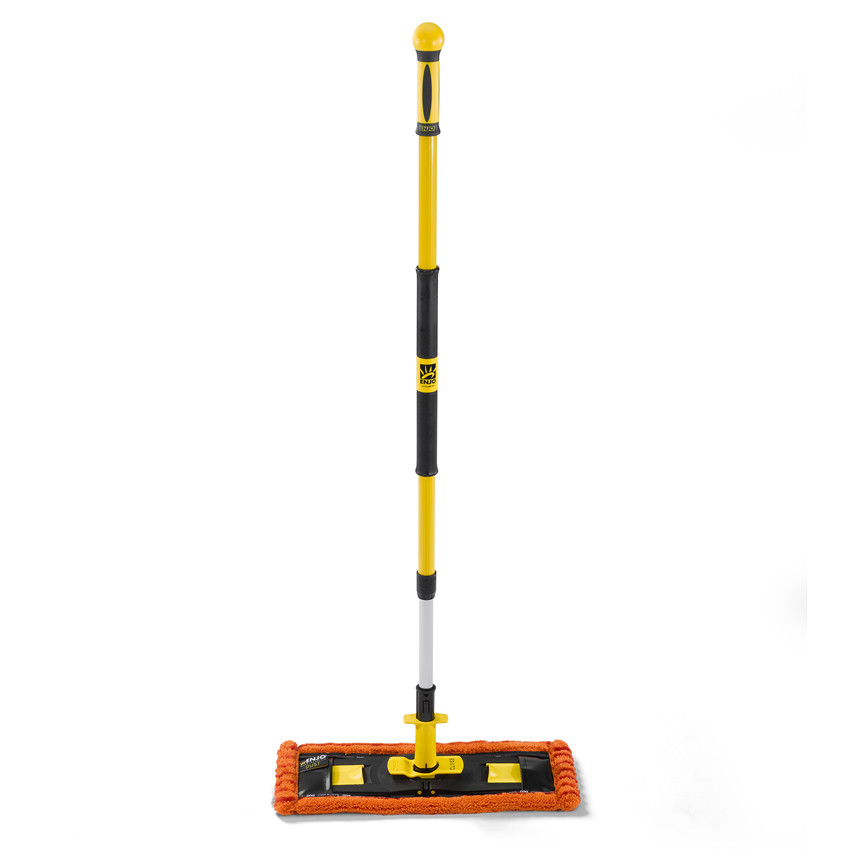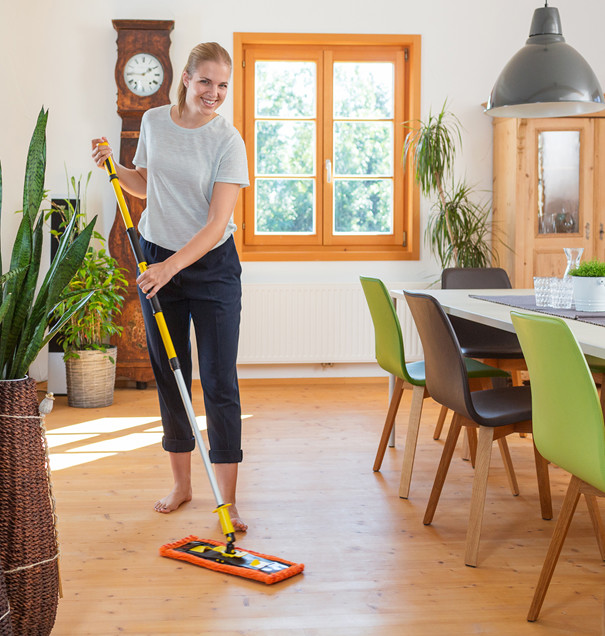 Blue ENJO Floor Fibre Extreme
Perfect for quick and effective wet cleaning of wooden and artificial flooring. The type of the blue cloth depends on the surface to be cleaned – oiled, lacquered or waxed parquet floor, vinyl floor, laminate, or PVC.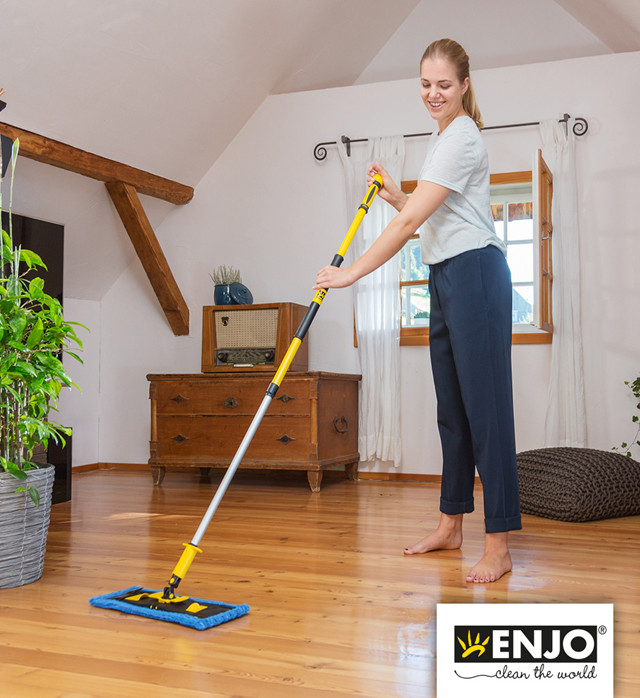 ENJO's chemical-free, all-natural fibre cleaning products contribute to the conservation of a healthy and clean environment. Recommended for asthma sufferers.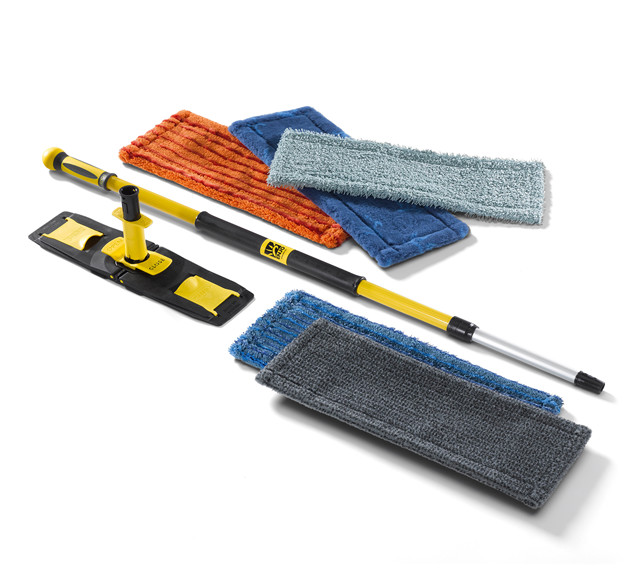 The professional floor care set contains:
1 ENJO orange floor fibre
1 ENJO blue floor fibre of your choice depending on the type of flooring in your home or office – parquet, vinyl, laminate, PVC
1 telescopic pole
With ENJO's telescopic pole, you can clean the skirtings, staircase elements and other poorly accessible areas simply, quickly and efficiently. The ENJO telescopic pole is 55 cm long.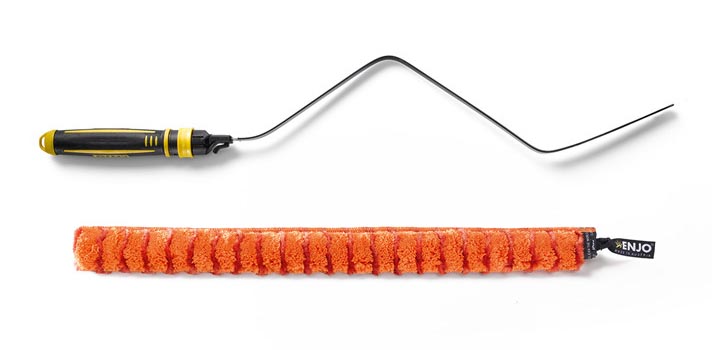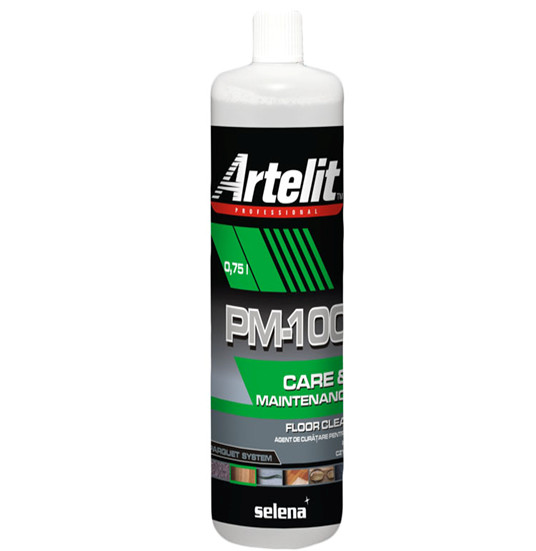 Concentrated floor cleaner for quick and efficient removal of stains, spots, prints and scratches in varnished parquet, laminate, vinyl, linoleum or PVC flooring. To be diluted with water before use.
ARTELIT PM-100
Highly efficient floor cleaner
Suitable for domestic use
Simple to use, to be diluted with water (1:100)
Dries quickly
Content: 0.75l.
Concentrated water-based product for care and maintenance of varnished flooring. The product can be used undiluted or diluted with water (1:100). PM-120 forms a protective layer that provides high resistance against abrasion and dirt, as well as slip resistance. It is also suitable for PVC coverings and ready-made parquets.
ARTELI PM-120
Odour neutral
Does not require polishing
Provides resistance against abrasion and scratching
Slip resistance to DIN 18032/2
Drying time 2 hours
Easy to use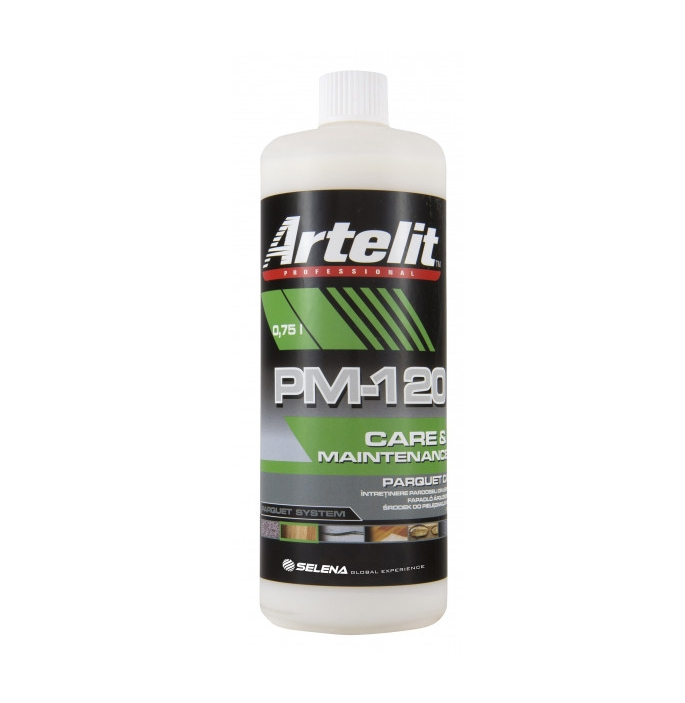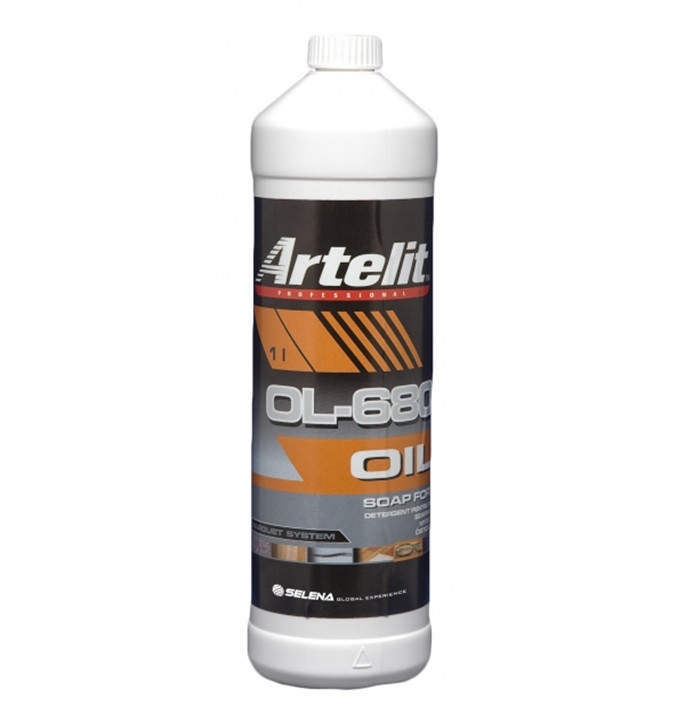 Concentrated cleaner soap based on natural vegetable oils and mild solvents is suitable for cleaning oiled and waxed wooden surfaces.
ARTELIT OL-680:
Easy to use
No added scents or preservatives
Use diluted with water (1:100)
Dries quickly (30-60 minutes)
Machine cleaning of parquet floors, terraces and stairs
We use machine cleaning to remove stubborn dirt deposits or when we have to clean large floor surfaces in commercial buildings, multi-unit residential buildings, or terraces.
The cleaner collects soaked dirt and dust, leaving the floor only slightly damp. We use different brushes depending on whether we intend to clean or maintain the floor, or apply a protective coat. The final stage of the cleaning and maintenance process is polishing, which gives the floor its special shine.